Significant Severe Weather to Impact Northern IL, southern WI Through the Southern Great Lake Region!
Dr. Reed Timmer, Lead Meteorologist
June 21, 2016
A significant severe weather event is expected Wednesday late afternoon/evening across northern Illinois, extreme eastern Iowa, northern Indiana, northwest Ohio, southern WI, and possibly extreme southern Lower Michigan… The main threats will be tornadoes and very large hail with supercells through evening, transitioning to a widespread damaging wind event especially northern Indiana east. While the lake breeze may hold down the tornado threat for the immediate Chicago area, populated areas just to the W/SW/NW of Chicago metro will have the threat for supercells with even damaging tornadoes starting 4-5 pm and later. In terms of instability and wind shear, this setup is one of the most substantial on paper for significant severe weather and tornado potential we've chased this season. Have included northern IL with the greatest tornado (3/5, moderate) and large hail (4/5, high) threat including just west of the Lake Michigan influence along the immediate shoreline. A 4/5 (high) damaging straight-line wind threat includes this same area but also extending east through northern Indiana and extreme southwest Lower Michigan. Lesser probabilities for all hazards extends east to northwest Ohio.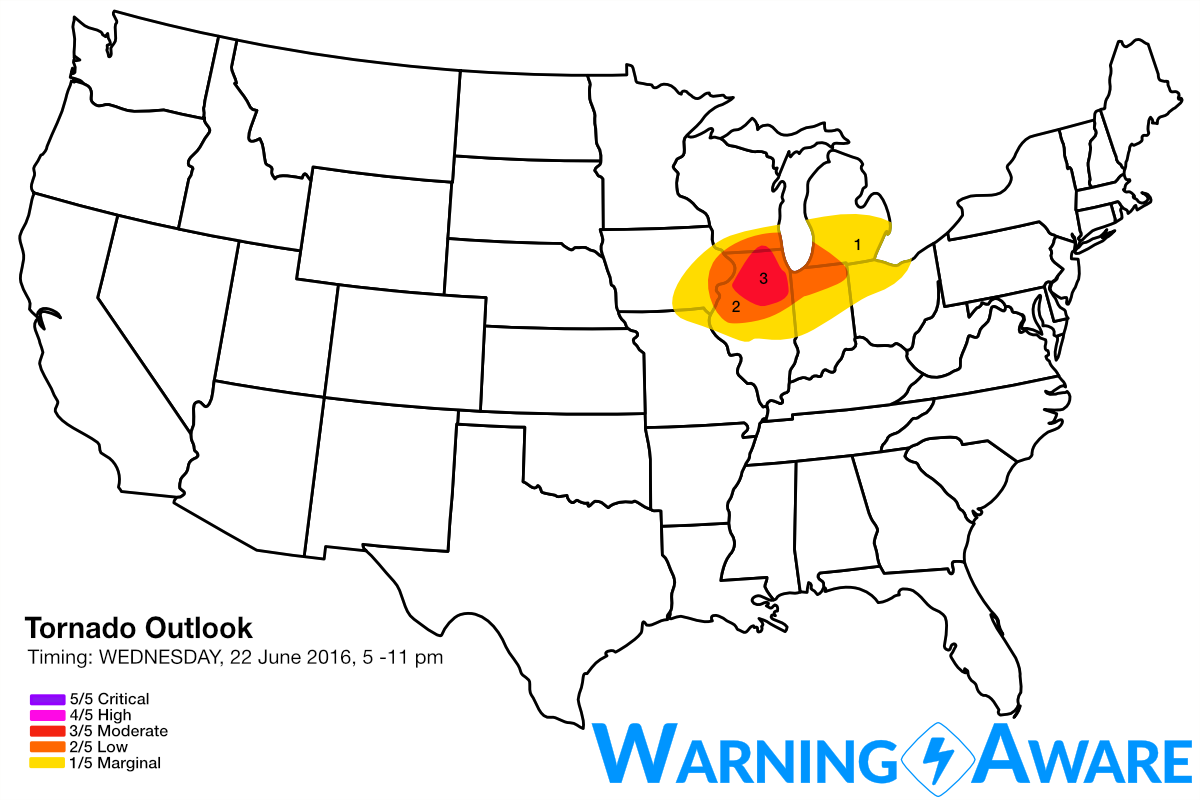 At upper-levels, a potent jet streak will traverse the northwesterly flow regime through the southern Great Lakes Region on Wednesday, with prime conditions for tornadic supercells and certainly a widespread damaging wind event across the warm sector in northern IL, southern WI, northern IN, and possibly extreme southern Lower Michigan. A complex of storms will move across central/northern Illinois early on Wednesday morning, leaving behind outflow boundaries that will help enhanced low-level wind shear for supercells to develop in northern IL by late afternoon/evening. Even without the presence of OFBs, the overall kinematic environment within the warm sector will be supportive of tornadoes especially along the warm front in northern IL Wednesday evening.
Supercells will develop rapidly near the surface low in extreme eastern Iowa or northwestern Illinois, possibly extreme southwest Wisconsin by 4-5 pm. Given the deep moisture/high instability of the corn belt and strong low- and deep-layer wind shear in the warm sector, these storms will quickly start producing very large hail and tornadoes. Storms will merge into a squall line and move southeast through southern Lower Michigan, northern Indiana and northwest Ohio with a widespread damaging straight-line wind event late evening and overnight. The most likely time-frame for severe weather to impact the Chicago Metro area will be between 6 and 10 pm.
Stay tuned to local warnings. This could be a particularly dangerous severe weather event.