Monster Supercells with Damaging Hail Likely Across Much of the Central/Northern High Plains Monday Afternoon!
Dr. Reed Timmer, Lead Meteorologist
June 13, 2016
A widespread significant hail event is likely Monday afternoon/evening for most of the central and northern High Plains from eastern Colorado through central Montana, with isolated tornadoes possible with the strongest supercells. A longitudinally substantial lead wave will eject across the High Plains by peak heating, with deep-layer wind shear and widespread moderate+ instability more than sufficient for intense supercells throughout this large S-N region just east of the Rockies. Cities like Denver, Cheyenne, and Billings, MT have all been included in the high or 4/5 threat for large damaging hail. A large region of moderate or 3/5 threat level for severe straight-line wind has also been included along and just east of the coincident hail threat regions, anticipating a relatively rapid transition from supercellular mode to linear complex as they traverse farther east across the adjacent plains.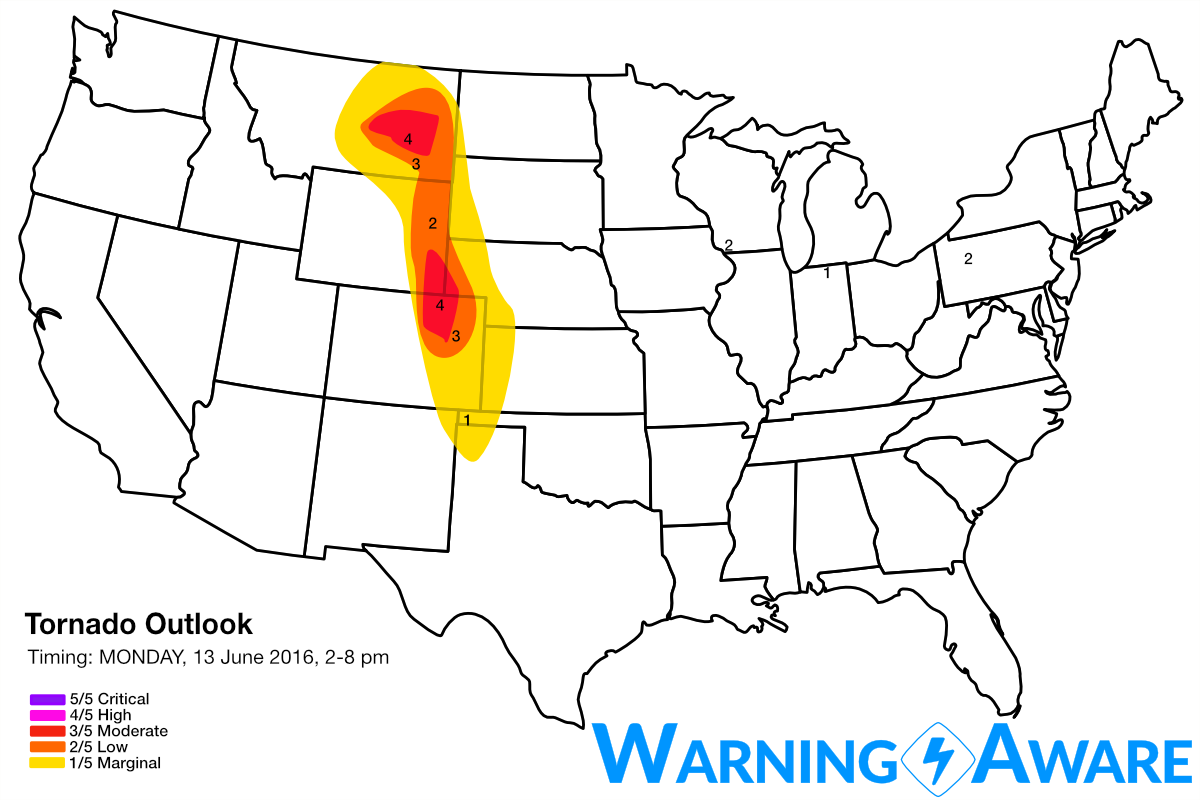 Based on the latest forecast models and a vast amount of time watching similar High Plains severe events evolve over the last 20 years, it looks like there will be two modes of enhanced severe weather: (1) central MT with stronger 0-3 km wind shear due to presence of surface low and (2) northeast CO into southeast WY (basically Chugwater, WY hot spot down to the Denver area. The low-level wind shear does not appear to be as favorable in the CO target as compared to MT, or even southeast WY, but the greater instability could compensate somewhat, and still beget an at least isolated tornado threat with the dominant cells, especially closer to the mountains including Denver to Cheyenne to Chugwater.
For the CO target: Storms will develop by early afternoon (1 pm or so) off the mountains and other elevated terrain first over the Foothills west of Denver and also in central MT, and will quickly become supercellular. These massive hail producers with will roll off the mountains by 12-1 pm, then will mike a beeline toward Denver International Airport as they often do, with mesos spinning by as early as 1-2pm. Large, damaging hail up to golf balls and larger, blowing sideways in 60 mph winds along with any small flying debris outside the airport would certainly shut down airport operations really fast. Certainly keep this in mind during your travel plans. The locals and weather enthusiasts from the Denver area are very familiar with the small-scale meteorological phenomena that are unique to the region, driven largely by the shape of the edge of the mountains. One of those features is the Denver Convergence Vorticity Zone (DCVZ) that can act to locally increase very low-level vorticity just east of Denver and enhance tornado or land spout potential. This is why you always have to assume at least a brief spinup is possible when an isolated storm approaches that area. The also factored in to the 3/5 tornado threat in northeast CO.
For the MT target: Supercells will develop early as well in the vicinity of the surface low and over higher terrain near and W/NW of Billings, MT and move northeast and east across central MT mainly north of the I-94 corridor and northeast of Billings. The time window of greatest tornado threat with these storms will be earlier in their evolution (around 2-4 pm) before they congeal into a mesoscale convective complex. At that point, the threat shifts to damaging straight-line winds through eastern MT thru evening.
Tomorrow (Tuesday) look like more significant severe weather including all hazards, across eastern KS, northern MO, southern IA, and possibly as far north as southwest MN. This includes Kansas City and Des Moines, and possibly the Omaha area if the system slows down a bit. Stay tuned this early week. it's going to intense.