Severe Weather Threat Upgraded Across Portions of the High Plains
Dr. Reed Timmer, Lead Meteorologist
April 14, 2016
Severe hail and tornado threat for Friday afternoon/evening has been upgraded across portions of the High Plains based on recent forecast model trends for more rapid moisture return, stronger low-level wind shear, and greater storm coverage, especially across the northern Texas Panhandle, western Oklahoma Panhandle, and southeast Colorado. An arc of supercells will develop by mid-afternoon Friday in eastern Colorado, building south down the dry line along the NM/TX Panhandle border toward evening. Tornadoes will be possible with any initial supercells near and east of a strong surface low in eastern Colorado especially after 2-3 pm, with tornadic supercells becoming increasingly likely by 6-8 pm in the western TX Panhandle. The low-level jet will also strengthen near/after 7 pm in the TX/OK Panhandles contributing to greater wind shear for tornadoes for any supercells that sustain after sunset especially in the southern end of the risk areas. With the 4 km NAM showing several supercells lined up from southeast CO into the NW Texas Panhandle, have decided to upgrade to the moderate (3/5) category for both tornado and severe hail threat.
Farther west over the Colorado Front Range Foothills and north-central mountains, this cut-off low will contribute to a MAJOR snow-storm with up to 4 FEET of wet snow accumulation possible for areas like Georgetown, Evergreen, and Boulder, CO. Thunder snow will be possible with snowfall rates exceeding 2" per hour Friday night and Saturday, with snowfall continuing through Sunday morning. Power outages will be common for the hardest hit areas. Significant snow accumulations of a foot or more are also possible for parts of southern/southeast Wyoming especially west of Cheyenne, WY. Winter storm watches and warnings have been issued for these areas Friday afternoon through early Sunday morning. Road closures will be likely including I-70 west of Denver.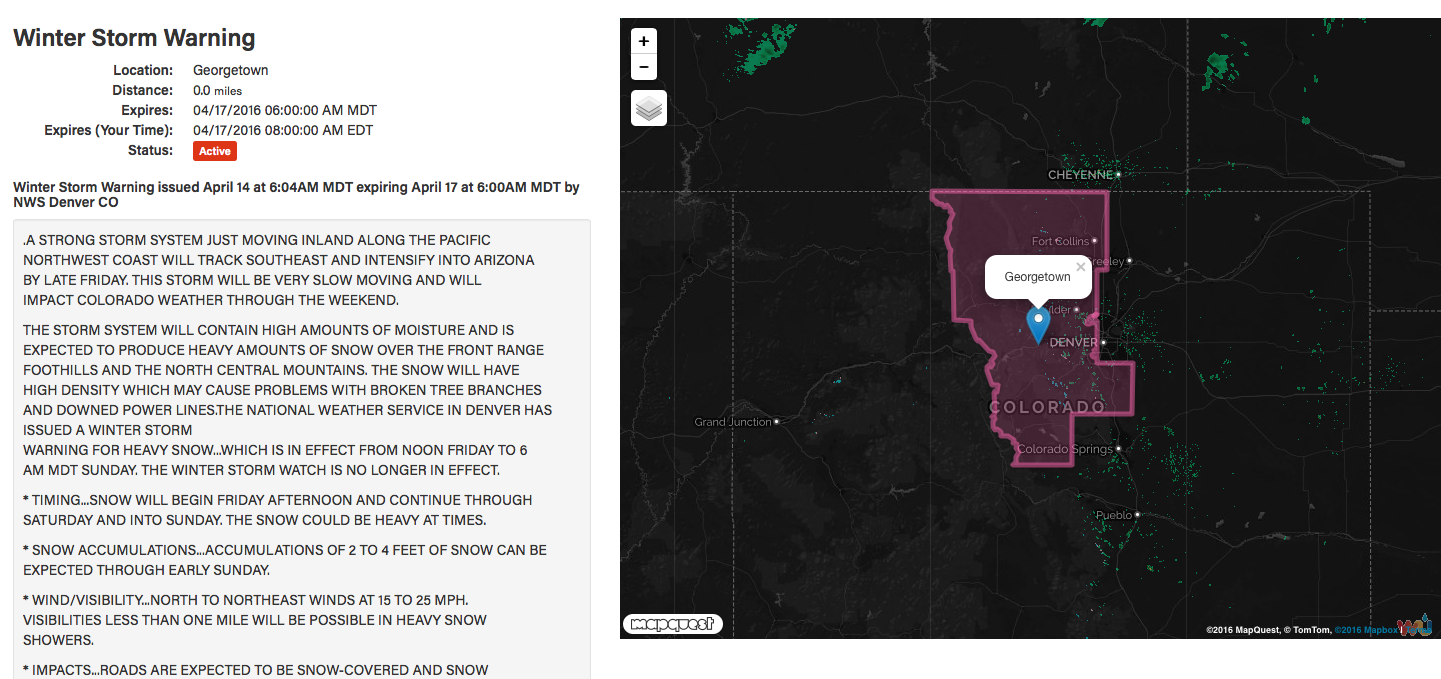 For Saturday, I don't think the tornado threat will be as high as Friday because of weakening low-level wind fields in the warm sector, but isolated tornadoes will still be possible with any dominant supercells in the southern Texas Panhandle down to northeast Mexico east of the mountains. However, the severe weather forecast for Saturday is still very uncertain and subject to change right up to the event, as is often the case with these more unpredictable cut-off upper-level storm systems.