Significant Severe Weather Possible This Evening Across Parts of Northern High Plains!
Dr. Reed Timmer, Lead Meteorologist
July 10, 2016
A massive upper-level trough centered over the Northwest U.S. will finally begin to eject across the northern Great Plains warm sector by late afternoon/evening, with significant severe weather possible ahead of the trough in the red circled area below. The most likely area for supercells with tornadoes and very large hail will be after 5-6 pm across extreme eastern MT, western ND, into southeast Saskatchewan, with another area of interest farther east along the retreating warm front likely to be near the ND/SD border in the central/eastern Dakotas.
In terms of supercell/tornado/very large hail threat, I have identified three main target areas given a "double warm front" structure east of an advancing cold front that will be in eastern MT through southeast SK by late afternoon:
Ahead of subtle lead jet streak across southeast Saskatchewan after 5 pm including the Yorkton - Melville, SK areas (moderate, 3/5 tornado, hail, wind threat)

"String of pearls" line of supercells along and immediately ahead of Pacific front in extreme eastern MT through western ND especially after 6 pm (moderate, 3/5 tornado; high, 4/5 hail)

Farther east along warm front near ND/SD border central/eastern Dakotas after 5 pm (low-moderate, 2/5 tornado, 3/5 hail)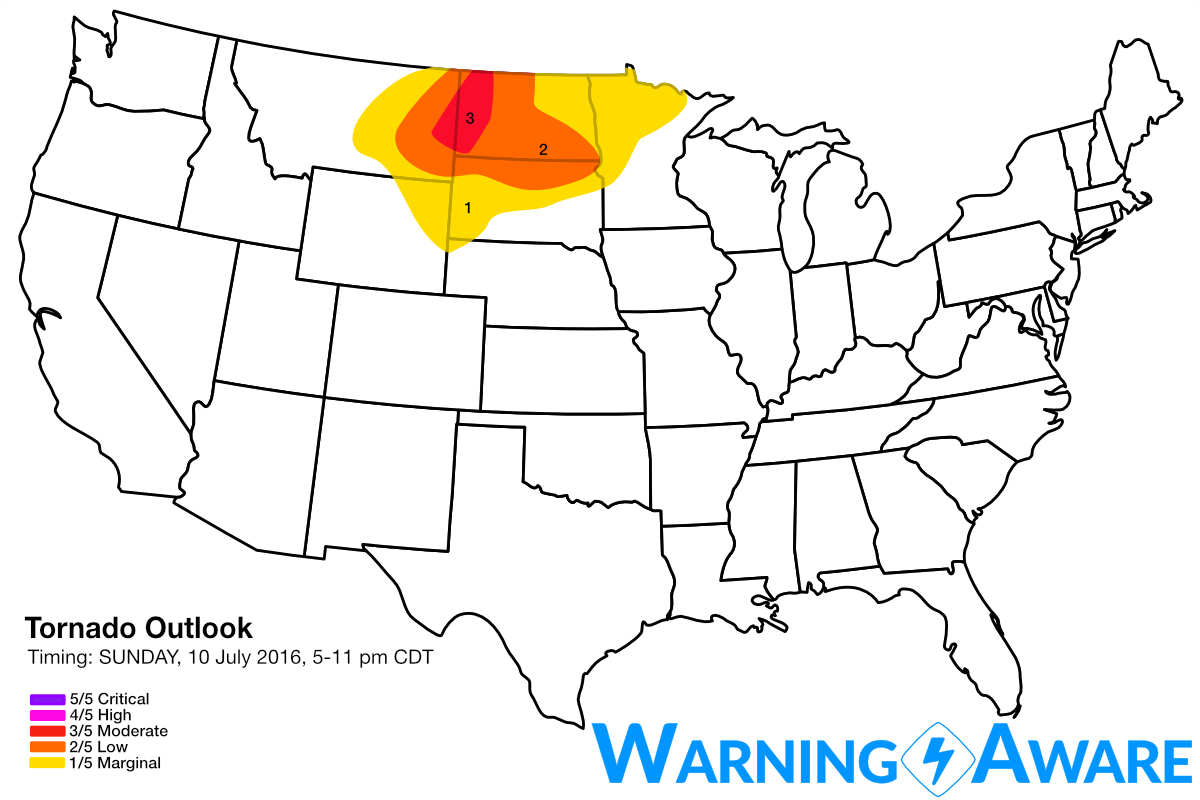 Near and after sunset, especially the first two modes above will consolidate into a forward-propagating MCS(s) with predominantly a straight-line wind damage threat overnight across much of North Dakota possibly into northern Minnesota and southern Manitoba. More significant severe weather is likely on Monday across a large part of Minnesota possibly extending as far southeast as eastern NE, with damaging straight-line winds, large hail, and heavy rain the main impacts.